Birthdays and end of year company functions are probably the most common parties we go to, but they're certainly not the only ones! We also have parties for weddings, anniversaries, finishing projects, bucks and hens nights, housewarmings, significant milestones and more.
The common theme with all these types of events is they're often ones where you're bringing together a diverse group of people. There might be family, friends, workmates, distant relatives and others. There's probably a wide range of ages represented, and almost certainly a wide range of interests too.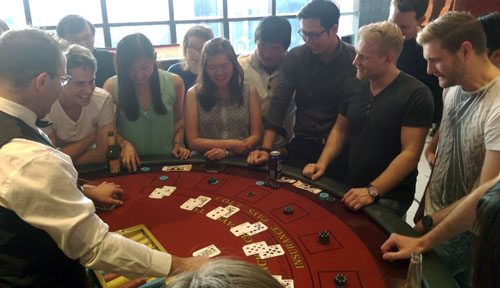 Plus a lot of guests probably won't know each other. How many times have you been sat at a function table with half a dozen people you don't know, and the conversation peters out almost straight away? Probably a few times! So it can be handy to have entertainment that also doubles as a great ice breaker. Having something interactive that gets your guests mixing and gives them something to actually do is a great way to go.
A private casino party is the perfect solution to all these entertainment problems. Casino games like roulette and blackjack are classics for a reason: everyone can play them, and everyone enjoys playing them!
"Best night ever! Thanks Blackjack Nights. The croupiers were brilliant, they really knew how to get everyone having a good time. The tables and red carpet looked so impressive and really wow'd all our guests. Extremely professional service, great communication and the night went without a hitch. 5 stars!"


Gina, private party, Oct 2016
Laughs and excitement come naturally for your guests at the tables. And of course they'll be paying with fun money, so it stays light-hearted and nobody goes broke! That "best party ever" vibe will spread through the room in no time and ensure your party is one that'll be remembered long after the music ends.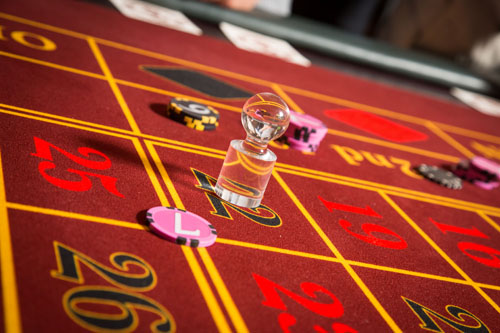 Of course for the maximum "wow" factor you want to partner with a company that uses great-looking tables and equipment, to really make your guests feel like high rollers. And you want those tables staffed by expert entertainers who'll get your guests involved and really set the mood.
Blackjack Nights will provide you with all that and more – it'll also be some of the easiest entertainment you'll ever organise, because we take care of all the details for you. And we're happy to share our experience from over 13 years and 3,500+ events with you to solve any planning questions you might have: from finding a venue to perfecting the run sheet for the night.
Contact us using the form below to get the ball rolling on the best party you'll ever throw!