Have you been given the awesome responsibility of being the best man at a mate's wedding? Or do you know someone's who's getting married soon? Chances are you'll need to come up with some bucks party ideas!
If you're looking for something different then a casino themed bucks party is a great way to go. It's got broad appeal – everyone can get involved and have a heap of fun. You can drink while you're playing (can't do that while you're paintballing or go-karting!). And it gives you the flexibility to run any other entertainment you want to put on for the night alongside.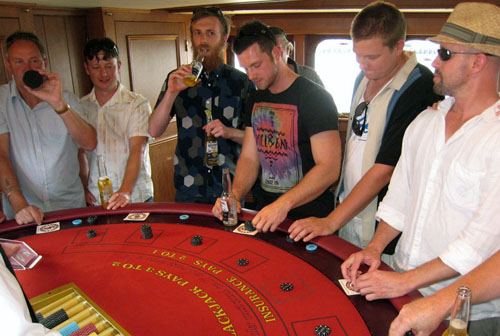 The best thing about a casino bucks party is that it's great entertainment for everyone. It doesn't matter if they guys are regulars in the casino, or whether they've never touched a deck of cards before. It's a great option for including the dads too. Our dealers will take care of everything on the night and quickly teach the new players how to play the games.
You can go with the casino classics like blackjack and roulette – always popular, and even new players will learn them in just a few minutes. It's a safer option than playing in a real casino too. Let's face it, there's going to be a few drinks consumed. At our tables, you won't run the risk of losing real money.
A poker tournament is another popular option that we can cater for. It's perfect for all sorts of bucks parties, from the laid back to the raucous. Groups of 10-30 are easy to cater for, and we can even run tournaments for larger groups if you need us to.
"Booked Blackjack Nights for a mate's bucks party and was not disappointed! I shopped around as well and they provided the best value for money, could not recommend enough!! Thanks for a brilliant night!!"

Varun, bucks party, Feb 2017
Works with all sorts of other activities
A casino themed bucks party is a great idea because it's such a flexible format. You can still do one of the other traditional activities like paintball, go karting or fishing during the day. Then you can head to a venue for drinks and the casino party afterwards.
You can have dinner and a casino party in the early evening, then go clubbing afterwards. And the format of the casino means you can always have other entertainment running alongside. Alternatively, the casino will break for shows or speeches if you need it to.